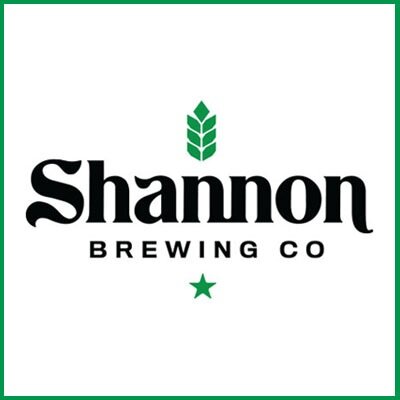 Wh

en I'm not homebrewing beer or blogging about it, I work in Keller, Texas. Last year about this time, Keller was blessed with its first craft brewery, Shannon Brewing Company. Located a whopping 1/4 mile from my office, I decided to head over to the brewery, grab a pint of dry-hopped Irish Red on nitro, and talk with founder Shannon Carter.
What was your career before brewing?
I was in brand strategy and brand design. I did brand and product development for companies like Whole Foods Market, USAA, Fiesta Bowl and several others. That experience really helped me develop the brewery's product line and the type of experience we want people to have here.
How did you first become involved with brewing?
Homebrewing, like a lot of other brewers. I played soccer all my life, and I played for a team in St. Louis after playing in college. One of our sponsors was a homebrew supply, and they brought over a very basic extract kit. Coach asked if anyone wanted to take a run at it, so me and a buddy said we'd try it out. So that was about 30 years ago. It's a different world now man. We had no internet to look stuff up on, we had no brewers to call on. We were just makin' stuff up as we went.
"I don't know. What does it say on the box?"
"No idea. Let's make it!"
Did you brew many different styles, or did you repeat a few recipes to "tune them in?"
They would give us a kit a week, so we were brewing new things every week. We would bottle at first and then we started going to kegs pretty quickly because they traveled easily. We kind of got this reputation for a soccer team that would bring beer to every game. It was fun. Just all over the map. At that point in my life, beer was beer was beer. Playing in St. Louis, guess what we drank? Budweiser, all the time, just flowing through the streets. And so all of a sudden this world opens up to you of all these different styles of beers. So it was kind of a blessing, and it was my introduction to different beers. That was really the start of it, realizing beer wasn't a product. It was an entire category. And it's funny, I still run into people now that when you say beer, they still think BMC (Bud, Miller, Coors) is beer. No, it's a really narrow product segment, albeit really successful. Can't knock a success, but it's a really narrow product segment of this HUGE category.
Just a leaf on the tree. So what would you say was your significant improvement in homebrewing, whether it's technique, equipment, etc.?
Over the years you brew a lot of beer. Early in my homebrewing days, I was like a lot of homebrewers in that I'd start brewing, and soon after we'd start drinking. It was just fun, and it became a social event. Even guys who didn't like brewing would just come over and hang, and talk and everything, and as a consequence, we didn't take great notes. People would go, "Man, that pale ale you brewed was fantastic!" and I'd say, "Yeah it really was. I wonder what I did there…" And so you kind of get to practice, but don't get any better because you're not paying attention. It wasn't until I really started taking diligent notes, and I know some homebrewers are going to hate hearing this, but I stopped drinking during brew day, that I got really good at brewing. Because when you're drinking on brew day, you're thinking 'eh, I'm not going to take that gravity reading, I'm tired, I'm not going to clean up now, maybe tomorrow, or a week from now.' You're not paying attention so you don't learn anything new.
Where you ever in any homebrew clubs, outside of the soccer team?
No, I looked at joining a club when I moved here to DFW, but I was doing this, I was working, and trying to get the brewery off the ground and just didn't have a lot of time. Plus, I was already brewing and doing this recipe development, so joining a club would have just been too much. I wanted to join a club. I think it's a great thing. The camaraderie that's there, you learn so much from your fellow brewers, and you get to share. Had I had more time, I think it would have been fun.
So when did you start to narrow down your styles? Are a lot of your commercial beers similar to the recipes you brewed as a homebrewer?
About 8 years ago I got really, really serious about this, and I started doing recipe development the same way we do product development professionally. We'd get the product about where we wanted it and do some variations on the theme, all presentable and good variations that maybe you can't figure out the difference. We'd do various blind taste testing, usually A/B testing and we would let the data take our good product and hopefully make it great. Or certainly a higher percentage of a sample would enjoy it. I'm not so arrogant as to think that what I think is the best beer is the best beer. I would much rather take what I feel is the best beer, put it up against other things that I think are equally as good and let the data show what really is the best. I developed several recipes of the recipes we brew and sell today that way. Our Irish red, our IPA, the stout, & the blonde were all developed that way.
Now our seasonals, we don't develop that way. After you brew long enough, you get a pretty good feeling for how the beer is going to turn out. By the grain load, the hop load, boil times, alpha acids. There's a lot of calculations you do, plus we use several different tools to help us design one-offs and seasonals. We won't do A/B testing for those, we'll just hop right into a 20 or 40 barrel batch and just go for it. Like the bohemian lager we have right now. And the next time we do that, will I tweak it a little bit? Maybe. But it means that we've taken meticulous notes pre-brew, during the brew, during fermentation, during packaging, and then tasting notes, all of which are archived for the future for us to pull them back out when it's time to do this beer again. You can't leave anything to memory because guess what, you've probably had a beer since then.
What made you decide to consider professional brewing?
The thing that was instrumental in launching Shannon and really why I started to do it was my grandfather. He was a brewer in Ireland and he had some notes on a brewhouse that he built. My dad gave me these notes because he knew I was interested in brewing, and at the time I thought, 'yeah, yeah, fascinating' and kind of locked them away. When I started getting interested in doing this for a living, I pulled those back out and it was almost an epiphany. I was reading about how he built a cart and track and he would either move the fire under the liquid, or move the kettle over the fire. It was unclear exactly what he was doing, because he was saying what he was building and not what he was using it for. And I looked at it and figured out he's doing a stepped temperature mash. So I thought, 'That's cool. Does anybody do a stepped temperature mash with fire?' I started doing research and everybody would say, "Oh good God, you wouldn't want to do that. That's a terrible idea. You'll scorch the wort under the false bottom." But I thought to myself, 'Yeah, well… how did they do it then?'
Shannon still uses the 55gal homebrew
setup for pilot batches

So I read his notes and built a couple of systems off of them, and I actually tried to build one exactly off his notes. It was cool, and it worked out okay, but the false bottom was made of birch strips in a basket weave pattern, and it worked! It just tasted terrible. It was awful. It may have been the wrong kind of birch, or I didn't cure it right. He wasn't super clear on that, he just said to use birch. It was probably sap or something. I could have chased down that path but I decided to just use a traditional false bottom. I don't have to be THAT authentic.
So I started experimenting and found that I could actually do the stepped temperature mash with fire. It's a huge timing process you have to hit, and we found it. Our actual commercial brewhouse is just a scaled up version of this homebrew setup I built, custom engineered and custom built system. It's a fire brewed process, and that's why each bottle and can says 'Fire Brewed Irish Ales.'
Your Irish heritage is intimately entwined with the identity of Shannon Brewing. Were there any commercial Irish style beers on which you modeled your recipes?
I took inspiration from a lot of European breweries. I started exploring different beers of the UK like Boddington's, I loved Bass, loved Guinness, Harp lager. I really developed a love of English, Scottish, and Irish ales and lagers. I certainly liked German and Czech beers, too, but there's something about Western Europe that I'm just drawn to. It's homeland for me. Here in the States I drew a real interest in Sam Adams early on. They were kind of the jumping off point for American brewers at that time. I admire Deschutes, New Belgium, and Sierra Nevada is a great brewery with a great product. Although I really like European beer, I certainly dig west coast IPA's. Everyone was doing west coast IPA's and I didn't want to be just another flash in the pan, so I figured we needed to remain true to where all this started for us. And for us it was Irish Ales. We go beyond that, we push some of the Irish influence into an Americanized brew. For instance, the red is really an Irish red, but then we kind of hop it up a little bit. Everything really takes its influence from the UK. We let it be an influence rather than a guiding principle. Some we just want to knock out of the park with true Irish style though, like our Cream Ale. It's a true Irish Cream Ale, brewed the way Kilkenny used to brew it in Ireland with a dual fermentation: ale fermentation and then a lager fermentation.
How has the Keller community responded to you in your first year?
Oh man, Keller has been great. We couldn't have better community support. From the local government all the way down to the people of Keller. They've embraced us, we've embraced them, and it's been a really nice fit for us here. There's a guy Mike that lives right behind us. We had to tear down part of the fence during our construction process, and at that same time we were watching him put in a gate in his backyard across the drainage ditch from us and I asked him, "Hey Mike, what are you doing?" He said, "This is my way to the brewery! Don't you put that gate back up!" So he just walks over across the ravine to come to the brewery. That's how it's been for us.
You are hosting a homebrew competition in November called Operation Bravo. Can you tell me what it's all about?
It's a homebrew competition that benefits veterans, and the judges are going to be veterans as well. It will be on November 7th, right here at the brewery, and we're sponsoring along with Homebrew for Heroes,
T&P Tavern
,
Texas Brewing
and some Keller staples:
DeVivo Brothers
and
Hook & Ladder Pizza
. There will be an award for crowd favorite, and we'll take that recipe and make it a homebrew kit "Picked By Heroes" available nationwide. The big winner of the contest, we'll get to do a Pro-Am with them. It should be pretty fun.
Your beer garden features several vines of hops. What variety are they, and how have they fared in the Texas heat?

Texas-grown Cascade hops border
the beer garden
Well, they've been just beat up by the sun. But it's all Cascade. I think a lot of them will survive and come back next year, and we're going to put a roof over the beer garden, so all of that will help. They just need a ton of water. Every day. A lot of resources say they love full sun, but I think it's a different sun over Texas than the Pacific Northwest where they're mostly grown. I used to grow them quite a bit in Austin, and they grew really well. Cascade grew the best down there, so that's why we invested in it up here.
How long have y'all been in cans?
Just here in the last month or so. I'm excited about it. I've been talking to a lot of other DFW brewers that are canning now and everybody loves it. It's just better for the beer. Plus I think ours turned out great. Our beer is all about being really simple, approachable, and drinkable, and we wanted our packaging to reflect that. It's really simple and toned down and elegant. What's more elegant than a tuxedo? It's so easy to over-design something, and every kind of hop pun has just been done to death. A lot of other breweries will make you guess what's in the can or bottle. With us, you know exactly what kind of beer you're grabbing; it's right there on the can.
You are one of few breweries in the area to offer your beer for to-go sales, including kegs. Have your customers responded to this option?
Yeah, definitely. We sell beer every day. Bottles, cans, and kegs too. It's a hard license to do because you have to have a trifecta: City Council approval, light industrial zoning to brew beer, and then you have to have a retail overlay to be able to retail. That doesn't happen often.
Do you have any new beers on the horizon?
Yeah actually, next week we're going to brew a Honey Porter. We are also going to re-release a lot of our 1st year success stories like the Winter Stout, the Chocolate Rum Stout, the Cream Ale and others.
Congratulations to Shannon Carter and his crew at Shannon Brewing for making it through their first year on the DFW craft beer scene. Make sure to check out their facebook, twitter @ShannonBrewery, website, and of course stop by their tap room and beer garden if you're in Keller.



Saturday, August 29th is Shannon's First Anniversary Celebration from 11am to 6pm with all kinds of eats, treats, and of course some great Shannon beer! Tickets are $15 online and $18 at the door.
Thanks again to Shannon Carter for taking time out of his busy schedule to talk with this lowly homebrewer. We'll see you at Operation Bravo!