Recently, I was invited back to
Tyree Radio's podcast
for a new show called Local Buzz. This show is by and large a bottle share wherein we all bring a bottle or two of some great craft beer to taste and share with each other. As with any good conversation shared over excellent beer, controversial topics were discussed passionately. Things like pumpkin spice everything, Blue Bell Ice Cream stout floats, and a recent stink wafting across craft beer markets in Texas. Apparently, the Texas Alcoholic Beverage Commission (TABC) has set its sights on crowlers.
Crowler filling machines are patented by Oskar Blues,
a craft brewery in Colorado. Ball owns the patent on the actual
crowler can design, though.
Crowlers are the latest beer-to-go craze in many up and coming and well-established craft markets alike. Most craft beer fans are familiar with growlers; customers can walk out of certain craft beer bars with 32-64 ounces of their favorite beer in glass, plastic, ceramic, or stainless steel jugs (called growlers) for enjoyment later. This newest variation is precisely the same thing, except the container happens to be a one-time-use, recyclable, tamper-proof, aluminum can.
Many of the places people wish to bring their favorite craft beer do not allow glass containers. This severely limits the selection of craft beer available for such outings since only a select few brewers package their beer in cans rather than bottles. I know some this isn't a big deal to some folks, but part of the allure of growler bars is the prospect of picking up rare offerings that are hard to get a hold of and most of the time not available in cans. We at New Main Brewing love nothing better than checking out a live concert on the lawn at the Levitt Pavilion in downtown Arlington on a crisp fall evening with a delicious double IPA.
Crowlers boast a large complement of advantages over conventional growlers:
They travel well and are recyclable once you've drained the contents.

If there is a charge for the can, it's minimal compared to purchasing a glass or stainless steel growler.

As far as open container laws go, nothing beats a sealed aluminum can. I'm looking at you, plastic growler screw caps.

One time use means there's no worry about cleaning the container out well enough to prevent a little science experiment to grow between growler fills.

Most crowlers are 32oz or two pints, which is the perfect single serving size in my humble opinion. To be fair, 32oz growlers exist, but again those are mostly glass which means they don't travel well.

Also, the smaller volume also means your beer is less likely to go flat during a typical session. 64 ounces, no matter how diligent you are re-capping the growler will flatten slightly over time and all 64 ounces must be consumed once the growler has been opened to prevent oxidation of the beer.

Crowlers are still relatively novel, so it attracts even more attention to the already booming craft beer market on both the brewery and retail fronts.
TABC's main argument has to do with the act of
canning the beer
, though. They claim that it is a manufacturing process that should be executed by the beer producer only. The act of repackaging beer is legal enough for plastic, glass, and stainless steel multi-use growlers, but the second you fill an aluminum can, you've violated
TABC laws
, according to their interpretation. When I hear the term "manufacturing process," I sure as hell don't think filling one 32oz can every few minutes qualifies.
It would be interesting to hear the perspective of mobile canning services on this issue. In essence, mobile canning services operate under contract to package a given number of batches of beer on a schedule worked out between the brewery and the service. In my opinion, this is nearly the same thing as a brewery owning their own canning line, and the sheer volume packaged at a given time justifiably constitutes "manufacturing." Maybe if brewers designated certain kegs that they send to bars as crowler fills only and then treated the account as a subcontracted venture instead of producer to retail agreement, the TABC would be able to understand the transaction better. My limited knowledge and understanding of the various types of permits required for producing and serving alcohol leads me to believe this is still a no-go without the bar holding some type of manufacturing license, though.
This seems like splitting hairs to this beer blogger. Granted, I do not work in the craft beer industry, so I may not be as educated as your average commercial brewer. I am, however, representative of the typical craft beer enthusiast, who I would argue is just as fed-up with this ridiculousness as the crowler bars themselves. TABC's policy is alienating the craft crowd in an already over-taxed, over-restricted, behind-the-times state. Not a smart move for the nation's 3rd largest state economic impact for craft beer and the 7th largest craft market by volume produced in 2014
(according to the Brewers Association)
.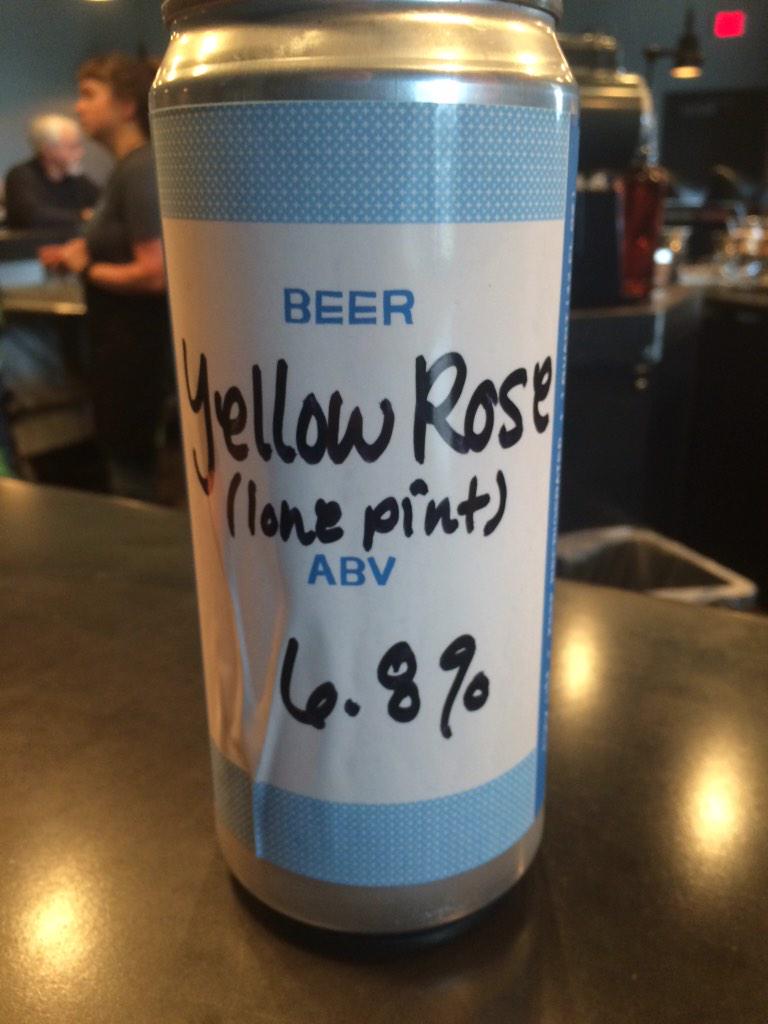 One of the finest IPAs brewed in Texas offered
in a Crowler at Cuvee Bar in Austin, Texas.
The crowler bar owners are not laying down, though. Mike McKim of Cuvee Bar in Austin recently lost his crowler filling apparatus to the TABC over this kerfuffle. They have taken up the mantle and challenged TABC's interpretation of the poorly written law. McKim plans to refrain from paying his fine while seeking a judicial ruling on the matter. At this early stage, this is probably the best way to get the law changed, or at the very least clarified. After all, there are several other states with adequate legal description and regulation regarding crowlers, so it seems this issue may simply be a matter of how new crowlers are to the Texas craft beer scene.
No that's not the Seattle skyline; it's a crowler filler.
To play devil's advocate for a moment, we have to realize that the TABC exists to regulate and provide the means through which alcohol is properly tracked and taxed. To that end, it makes sense that all manufacturers, wholesalers, and retailers should operate within its guidelines to ensure fair play by all parties. I believe this issue should be regarded as a clarification issue and not a stubborn zero tolerance protest. Everyone in the alcohol industry is there to succeed, and the stronger the industry, the more tax dollars are ultimately provided. Seem's like a win-win if they can all just agree on what game they're playing.
Let's get this straightened out so we can get back to enjoying great beer like free Americans.
For more reading on the issue, check out these links:
For more discussion about this and other topics of interest to craft beer drinkers, check out
The Local Buzz podcast from Tyree Radio
. It's a free podcast that covers a variety of topics, so subscribe, check them out on
facebook
and twitter
@TyreeRadio
. We have a blast every time we hang out with them, and we think you'll enjoy them, too.