We took a few weeks off from the blog to spend time with our friends and family. We participated in the
Chosen Half Marathon
in New Braunfels, Texas in support of our dear friends, Adam, Katti, and Isaac Henderson. We shared miles, meals, and memories, and we were pleasantly surprised when some of our other dear friends, Brian and Lauren, shared some of the
peach wheat beer
we brewed for them back in July! I must admit, I didn't think I would enjoy a fruit beer as much as I did. We may have to add
Life's A Peach Wheat Ale
to our yearly rotation!
Chosen Half Marathon runners just before the race
We spent the following weekend visiting our friends and relatives in Tyler, Texas for Thanksgiving. Turkey, dressing, dogs running everywhere, mashed potatoes, green bean casserole, dogs, squash casserole, dogs, and of course, ooey-gooey butter bars. And dogs. There were 10 dogs. In one house. At least they didn't
run away with the turkey
. We had a great time catching up on each other's lives and playing board games while enjoying some Deep Ellum Dream Crusher and Martin House Day Break. Now to say that our board game sessions are hilarious is like saying sunsets are pretty. As far as I can remember, each time we've played a board game together, whether it be Cards Against Humanity, Balderdash, Cranium, ERS, or Catchphrase, at least one of us has been in serious danger of asphyxiation due to laughter. Honestly, how any of us have managed not to break a rib or two is a certified medical mystery.
As all of us across DFW recover from
North Texas Beer Week
and Thanksgiving, let us reflect on the coming months. It's the most wonderful time of beer. Stouts, warmers, porters, barleywines. Where the summer is more of a quantity season, fall and winter are certainly a time to reflect on quality. This is why I took a leaf out of a fellow homebrewer's book and decided to start a birthday tradition of brewing a barleywine to be aged and enjoyed on the following year's birthday.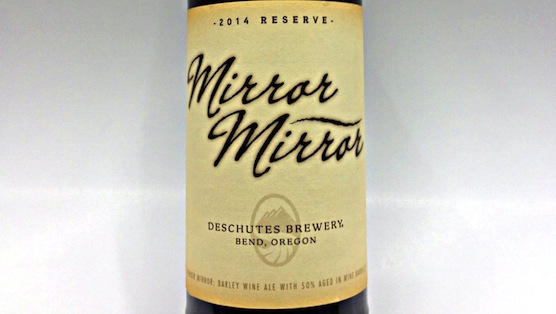 I recently had the pleasure

of enjoying this

delicious




barleywine from Deschutes

after a year of aging.


Photo: Paste Magazine online
This practice allows me to do what I enjoy most, namely brewing and drinking great beer, on a day when I can surround myself with the things and people that matter most. Barleywines and stouts are excellent beers to share with loved ones while contemplating life and the future. Something about gingerly sipping a 10%+ ale bursting with flavor and complexity sets the tone for one to be able to step back and examine oneself impartially.
I have noticed that many people don't find barleywine appealing, most likely owing to its intense malt flavor and high alcohol content. This is fair, because barleywine isn't a beer brewed to appeal to the masses. It is one to be enjoyed on special occasions when you have the time to reflect both on the beer and on the important matters you've set aside throughout the week. Each sip contains the right balance of elixir and contemplation, setting the tone for your mind to begin unfolding the most tangled messes we all struggle with. Whether this hearty ale is enjoyed with friends accompanied by meaningful conversation or poured and sipped fireside while enjoying a good book, a fine barleywine sets the appropriate tone for contemplation and reflection.
Here's the recipe:
Birthday Barleywine
2.5 Gallons, OG: 1.100, FG: 1.020, 60 IBU, 10.5% ABV
Grain Bill
8lb Maris Otter Pale Malt
2lb Munich Malt
4oz Crystal 20
4oz Crystal 80
Mash @ 149 for 90 min
Hops
1.5oz East Kent Goldings First Wort Hops
1.5oz East Kent Goldings @ 10 min
(75 min boil)
Yeast
White Labs 007 Dry English Ale Yeast
Ferment @ 65F for 2 weeks, rack to secondary for aging 9 months, package for conditioning 2 1/2 months. Enjoy near November 14, 2016.
I look forward to nursing my barleywine through fermentation and aging in the coming year. That may prove challenging not due to technique but rather remaining mindful of what is best for the beer as the year carries on. I'll be making a few changes and additions to the New Main brewhouse in the coming months, thanks to a little help from our friends. We were gifted a sturdy wire frame shelving unit on which I hope to construct a 2- or 3- vessel brewing system soon. We will also be decorating the
garage
brewhouse with several tin signs and posters we won at
Dr. Jeckyll's
grand opening and Halloween party. Furthermore, we will be setting up a collaboration brew session with my award-winning brewing buddy Kyle Nelson of
Steel Rain Beer
in the near future as well. We're hoping to brew around New Years and make a Bluebonnet competition entry beer, so stay tuned for the details!
Kyle Nelson, another badass Aggie brewer and blogger sporting
his Gold Medal at Labor of Love earlier this year
Last, but certainly not least, the time is near at hand for our good friends Sean and Wade at
Division Brewing
to fling wide their doors and accept the unwashed masses into their brewhouse and taproom. Though their grand opening has yet to be announced, murmurs and photos on facebook intimate that they are nearing their much anticipated start date. Be on the lookout for some meet-the-brewer and tap takeover events in the Arlington area. We were fortunate to catch them during North Texas Beer Week at Mellow Mushroom in Arlington to sample the few remaining excellent beers from their impressive line-up that we had yet to try: Rosalee, Ag Town IPA, Bruton's Bitter. Folks, I think it is no small secret that we CANNOT WAIT for these guys to start pouring in Downtown Arlington.
Wade Wadlington & Sean Cooley are about to drop some mad
delicious beer on Arlington
Until next time, enjoy each other, enjoy this time of year, and of course enjoy great beer.